For more fun kids' activities from In Lieu of Preschool,  
The
FREE Printables for Beginning Readers
 Set 1, Book 5 are here!  Be sure to download my printables as well as click the links below to see 5 more sets of printables from my fellow collaborators: 3 Dinosaurs, Rockabye Butterfly, Royal Baloo, This Reading Mama, and Walking by the Way!  If you find these printables helpful, please share this post with your friends, co-workers, on Facebook, or on Pinterest!!
You will find my FREE printables in my Teachers Pay Teachers store. 


5 More Sets of FREE Printables:
Here are links to ALL the great FREE printables for Set 1, Book 5 – Dot and Mit by my fellow blogging teammates.  
What are BOB Books and where do I get them?  
In my opinion as a reading teacher and as a parent, BOB Books are simply the best phonics books for beginning readers out there today!!  You can often find them at the library.  If you want to purchase your own set, you can find them at most bookstores and online.  Costco also has them on occasion and sells them in collections equal to 1-1/2 sets; the books are a larger 8″ x 8″ size instead of the regular 4″ x 4″.  You can click this link or the image below to see the books at Barnes & Noble.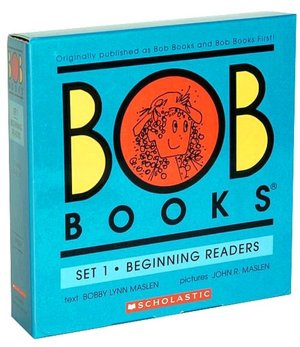 Want to know more about BOB Books or my printables?
Did you miss a post?
Visit my BOB Books tab at the top of the blog or by clicking here to see past links and a schedule for all the upcoming books!
Our BOB Books Pinterest Board:
We have a 
BOB Books Pinterest board
 you can follow to keep up with all the great resources that are being shared.  We really hope these printables will be useful to parents, teachers, homeschoolers, tutors, and more!!  
Feedback?
I would love to hear your feedback about my printables!!  Are the activities beneficial for your child?  Too difficult?  Too easy?  Are the directions clear?  Did you note any errors?  Which activities were the most fun?  Most helpful?  I would love to hear all of your feedback, both positive and critical, so that I can make future materials as helpful and easy to use as possible.  I would also love for you to rate the pack in my store as well.  Thanks for all of your support!  
In addition to the book and now the printables, there are also BOB Book Apps for iPhone / iPod Touch and iPad available in the Apple iTunes store.  
The images are clickable and are affiliate links.  If you shop through these links, your price will be the same but my family will gratefully receive a small portion of the proceeds.
Stay Tuned for More FREE BOB Books Printables:
Set 1, Book 6: Dot and the Dog
Coming December 3rd, 2012
Disclosure:  My printables are NOT affiliated with BOB Books or the BOB Books brand.  BOB Books Logo used with permission.  Some links included in this post are affiliate links through Barnes & Noble and Apple/iTunes.  If you purchase BOB Books or BOB apps through these links, your price will be the same, but our family will gratefully receive a small portion of the proceeds.
This post may contain affiliate links.