I wanted to take a moment to introduce you to a couple of sites offering products and curriculum we love!!  

Each month I'll try to remember to feature them in a post which will also outline any sales or specials they're currently running!!  You can also see their clickable logos in the right side bar of the blog for easy access.


All About Reading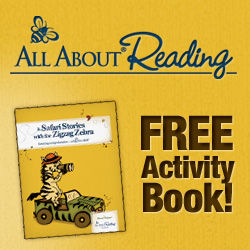 See our posts about All About Reading:
A Pre-Reading Curriculum for Preschool
(An Intro to the program)
A Day with All About Reading
Little Passports
Save 10% using code: JULY10
Stay tuned for our review of Little Passports coming soon!
GrapeVine Bible Studies
See our review of a bible study from Grapevine here:
Joseph
What's in the Bible?
20% off your purchase
Purchases over $15 ship free in the US
You Make Do
handmade paper goods for party and play
instant downloads ready for your handmaking goodness
(I just downloaded the blossom fairy party kit for Lilah's birthday next month!)
NaturExplorers 
e-book guides to help you explore nature
BabbaBox
20% off your 1st box
using code: a20off
Raising a Creative Kid eBook
from A Mom with a Lesson Plan
NatureBox
25% off first month
using coupon code "SHARE"
Baby Signing Time
Signing Time



Buy any 3 Signing Time DVDs, save 10% with code: bundle10
(We own the WHOLE collection and LOVE them!!)

Potty Time




MadeOn Hard Lotion
Click here to visit MadeOn Lotion.

(We love her lotion, lip balms, soaps, and are getting ready to try her bug block!)
Sakura Bloom
Here's Lilah in a purple linen Sakura Bloom ring sling when she was about 9 months old on a vacation to Ocracoke.  LOVED it!!

Disclosure: These are affiliate links.  

Wait, what is an affiliate you ask?  It's a company that In Lieu of Preschool has partnered with to bring their information to you.  I am *very* selective about who I partner with and only work with companies that are family-friendly and whose products I can stand behind.  Many of them were personal favs of our family that I have sought out so that we could share them with YOU!  If you make a purchase through one of my affiliate links, your cost will not change at all, but my family will gratefully receive a small portion of the proceeds.  I only work with companies that interest me, my family, and that I think would truly interest and benefit you, my readers!


This post may contain affiliate links.