Last December one of our daily Advent activities with the kids was to read a devotion from The Advent Jesse Tree by Dean Meador Lambert.  We made simple paper ornaments to go with each daily reading by copying and coloring the picture from each lesson.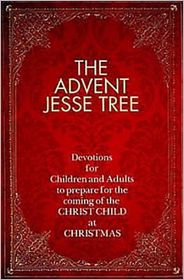 This year, I wanted to try something new.  I wanted to make "real" ornaments to go along with the daily Advent devotions.  Here they are:
1.  a globe or picture of the Earth
2.  an apple and a snake wrapped around it
3.  an ark with a rainbow
4.  a camel and a tent
5.  a lamb
6.  a ladder
7.  a colorful coat
8.  a tablet with ten numbers
9.  a cluster of grapes
10. a sheaf of wheat
11. a slingshot
12. a scroll or Bible
13. a stump with fresh shoot or green leaf
14. a lion and a lamb
15. a dove and a crown
16. a lamb and a shepherd's staff
17. a cross
18. a heart with writing on it
19. a Bethlehem town silhouette with star
20. a fiery furnace
21. a brick wall
22. a star
23. a candle or light
24. an angel
25. a baby in a manger or a nativity scene
I am NOT an artist by any means, but I love the way they turned out!  These are a few of my favorites:
Materials Used:
* Microwavable salt dough recipe (salt, flour, water)
* Acrylic Craft Paint and Glitter Glue
* Modge Podge (for sealing after painting)
What's the Advent Jesse Tree devotion book like?
Each day focuses on a symbol to help explain the coming of Christ.  The devotions start on December 1st and go through Christmas, so there are 25 of them.  We often double up during the week since weekends are busy for us.  Each day, you learn about one symbol to help prepare for the "coming" of Jesus.  There's a memory verse, suggested hymns to sing, and 2 sections — one for children and one for adults — both containing scriptures to read, a devotion, questions, and a prayer.  It only takes a few minutes each day to hang the ornament and do the devotion, yet it helps to give a lot more meaning to the Christmas season and teach little ones why we really celebrate!!
Are all Jesse Tree books alike?
No, so if you are using a different one and plan to make ornaments, be sure to look for the list of symbols used by your particular book or devotional guide!  
Microwavable salt dough??
Yep!  I found the recipe over at Rainy Day Mum and had to try it out!  Most salt dough takes about 3 hours to dry in the oven, so she had me when she said her recipe only takes 3 minutes in the microwave!!  There was a bit of a learning curve, but I ended up loving it.  My first batch bubbled and hardened in the microwave in about 20 seconds.  So after realizing my microwave must be way more powerful than the one Cerys used, I reduced the power and ran it for shorter periods of time, watching through the door all the while because I also found out these can burn!  One of my batches got lightly toasted but they still worked fine because I painted them; if I had let them go any longer though, it would have been ugly!  
Just be aware that all microwaves are different, so definitely do a few tests before you put all your ornaments in there at once, and I'd stand close by to monitor.  I also recommend not rolling your dough too thin.  I tried the recipe twice and the second day when I made thicker ornaments, they were much more sturdy and professional looking than my first days' work.  In the end, I do highly recommend the recipe because you can have ready-to-paint ornaments in a really short amount of time, but I do think you will have to find the right settings and time for your particular microwave by trial and error since individual ones vary so much. 
Also, if you plan to connect various pieces of salt dough into a single ornament, it helps to brush lightly with water at the connection spots to help them adhere.
Is there an alternative to the microwavable salt dough?
Certainly!  You can use regular salt dough that you bake in the oven.  Another alternative is to use Crayola's commercially available Air-Dry Clay.  You can find it at most craft stores.  My sister-in-law used it to make a set of Jesse Tree ornaments and said she really liked it.  To use the Air-Dry clay, you mold it like play dough and then leave it out to dry.  Most pieces will dry overnight and can be painted the next day.  
How we made the ornaments:
It was a project that everyone helped with to some degree, including the kids!  Altogether we mixed and rolled our dough.  We used cookie cutters for some ornaments and made others entirely from scratch.  We didn't use any picture guides or anything; just thought about the symbol and did our best to make a representation of it!  I did all the painting myself and once the ornaments were dried, I coated them with Modge Podge to seal.  Don't forget to put a hole in your ornament for hanging before you dry it!!


Do you do any family Advent activities?
Disclosure: The book reviewed in this post was purchased by me and this is not a sponsored post.  The book link to Barnes & Noble is an affiliate link.  All posts on this blog reflect my personal opinions.  
This post may contain affiliate links.