To make our plain cloud dough a little more festive for the upcoming Christmas season, we turned it into GINGERBREAD!  Gingerbread cloud dough is as easy to make as regular cloud dough, you just add a little bit of cinnamon and ginger in with the flour and oil, and it smells great, too!  Then you and your kids can create a Gingerbread Man Cookie Bake Shop for hours of sensory play time fun!
We already had cloud dough made from a previous play time, so we just mixed in cinnamon and ginger to our existing cloud dough, but if you want to make yours from scratch, you can see the super simple recipe here in my first post: Make Your Own Two-Ingredient Cloud Dough.  Then just add in ground cinnamon and ginger spices — as much or as little as you want!
Once the kids had mixed up our gingerbread cloud dough, I placed it in trays so they could make gingerbread man cookies!
We gathered up some gingerbread man and woman cookie cutters that we normally use with our play dough, as well as some circle cookie cutters, and some craft materials we could use to decorate our gingerbread man cookies, like buttons, beads, yarn, marbles, bottle caps, and various other bits and pieces.
The kids sat in front of the fireplace and made cookies to their hearts content.  It was the perfect way to spend a rainy, cold afternoon!
Here are a few things to consider…
More Ideas & Extensions: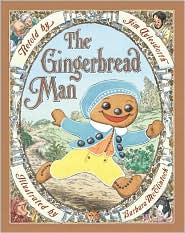 Recite lines from the book while you make a gingerbread man!
Set up a bake shop & store for even more pretend play.
After playing, bake REAL gingerbread cookies.
Create a big batch of Gingerbread Cloud Dough for a seasonal play date or an upcoming birthday party!
Create Gingerbread Man Cloud Dough Kits including gingerbread cloud dough and some materials for decorating to give to friends.

Be sure to include a note that the items are for play only and not edible!!
Please note: Gingerbread cloud dough and the gingerbread cookies made from gingerbread cloud dough are NOT for consumption!  Please closely supervise your child(ren) during this activity to ensure they do not put any of the materials into their mouths as many of the items are choking hazards.  You know best the age, abilities, and habits of your child, so please use your best judgement when choosing safe, appropriate activities for your child.


I first read about cloud dough here at Flights of Whimsy.

Disclosure: Some links included are affiliate links with Barnes & Noble.  If you shop through these links, your price will not change, but my family will gratefully receive a small  portion of the profits.  All thoughts and opinions expressed here on the blog are my own and are not swayed by compensation.
This post may contain affiliate links.