We have been using the pre-reading level of All About Reading for several weeks now and we LOVE it!  I spent a lot of time researching before I chose this program and as a former elementary and reading teacher turned mom to two preschoolers, I really can't say enough good things about it — it's fun, the kids love it, they're learning, the kids love it, everything is laid out and ready to go for me, and did I mention the kids love it???  If you don't believe me, just look at how much they love the Ziggy the Zebra puppet who comes along with the Pre-Reading Deluxe Package:
Seriously, my kids quit smiling for the camera long ago, but with Ziggy around, they can't help themselves.  And Ziggy is helping them to learn their letters, sounds, and all about rhyming!  I wonder how much he charges for babysitting?
Ok, it's obvious my kids and I *love* AAR!  So just try to imagine my excitement when I found out today that I get to host a giveaway for an All About Reading Pre-Reading Deluxe Package for one of my readers!!  If I get any sleep at all tonight, it will be nothing short of a miracle.  So. much. excitement.

So, what does an All About Reading Pre-Reading Deluxe Package contain?  Everything!  Yep, you can view it all right here on the AAR website, and you can see my post about the contents of the program in my post, "A Pre-reading Curriculum for Preschool."
And what does the program look like?  On a basic level, the AAR Pre-reading program (formerly called Level Pre-1) is a letter of the day type of program, but really it's a lot more than that.  Two of the main benefits of the program that make it stand out in my eyes are that it includes a phonological awareness segment with each lesson (As a reading teacher, just let me tell you this is HUGE!), and from a convenience standpoint, everything is basically pull-out-of-the-bag and go!  There's no printing, cutting, laminating, or planning to do on your part.  Once you get the rhythm of the lessons down, you probably won't even need to look at the lesson beforehand.  I'm not kidding.  Click here to see "A Day with All About Reading" where we tackle the letter F! 
Are you as excited as I am yet???  Now, on to the giveaway!

One lucky reader will be randomly selected to receive an All About Reading Pre-Reading DELUXE Package from All About Learning Press.  The giveaway will run for roughly two weeks and the winner will be chosen randomly using Rafflecopter.  Only US and Canadian addresses are eligible to enter.  The only mandatory entry is easy and no-hassle; simply hit enter.  If you have more time, there are multiple other ways to enter which will increase your chances of winning, and some of them can be repeated daily for even more entries.  The winner will be selected within 48 hours of the end of the giveaway, and the winner's name will be posted here and contacted via email.  Please add inlieuofpreschool (at) gmail (dot) com to your contact list so that the potential winning email doesn't end up in your spam folder.  The winner will have 48 hours to reply with their mailing address before a new winner is selected.  Best of luck!!

a Rafflecopter giveaway
If you just can't wait to see if you won or if you want to get started with this program now, visit the All About Learning Press website to purchase.  There are 78 lessons in the pre-reading program, so it works out to around $1/lesson for the basic package and $1.50/lesson for the deluxe package.  If you have more than one child who will use the program that helps even more to justify the cost, and you only need to purchase extra copies of the student activity book, "My Book of Letters."  When you finish with the program, the only part that has been consumed is the "My Book of Letters" book, so everything else is ready to be used with another child!

In other news, I will soon be posting about using All About Reading Level 1 with my oldest.  He is loving the pre-reading program, but is already beginning to read.  I plan to have him continue the pre-reading program along with his younger sister because he loves it and it's a great review, but I'll also add in lessons from AAR Level 1 just for him.  I know several readers had asked about it, so I will be happy to share what those lessons "look" like and how we like it once we get into the program a bit. 🙂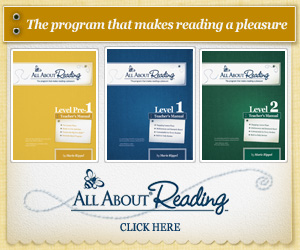 If you have any questions about All About Reading, feel free to ask!  And if you have any experience with the program, please share. 🙂

Disclosure: The links contained in this post are affiliate links.  I only accept and review products on my blog that interest me, my family, and that I think would truly interest and benefit you, my readers.  All posts on this blog reflect my personal opinions and are not swayed by compensation and/or free products.   
This post may contain affiliate links.